At Full Tilt Boogie Racing,

we have some exciting news for Mustang performance enthusiasts.
We now have available a 14" front (355x32mm) Brembo brake conversion kit for all SN-95 vehicles.

FT 9490

Street

version and
FT 9490 HD

Road Race

version.

Here is a photo of the kit.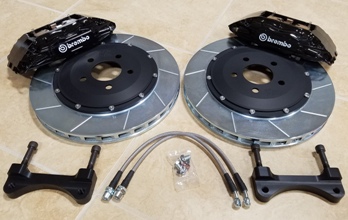 This requires 18" wheels and should fit under most 18" wheels. Check your wheel specs for fitment.
This kit naturally fits Cobra models 1994-2004 along with all Mach I, Bullitt and GT models as well.

Included in the kit are a pair of radial mounted Brembo F-50 four piston fixed
calipers loaded with street pads and pad attaching hardware.
A pair of FTBR caliper mounting brackets with caliper mounting hardware,
FTBR stress relieved, slotted, directionally vaned, clear zinc plated, floating rotor rings,
hard anodized, billet machined aluminum FTBR floating hats,
attaching bobbins and hardware all of which are compatible with the Brembo Gran Turismo 355x32mm kit.
The kit also comes with braided Stainless Steel front brake lines, banjo bolts and copper sealing rings.

Similar kits can be found for more than $700.00 more than what we are offering the kit for.
Here is an example:


Brembo GT 355mm Big Brake Kit



The price of our kit is $2,950.00 and comes complete with everything you need and ready to bolt on to your vehicle.
Race pads are available at an additional cost depending on your pad choice. (please inquire)

Why is our 14" kit better than some of the other 'cheaper' 14" kits available on the market?
I'll tell you, and it can be summed up in two words: "rotating mass".
Some of our competitors use a 14" OEM GT 500 rotor in their kits.
These rotors are very inexpensive to buy compared to manufacturing 2 pc floating rotors and hat assemblies.
These insanely heavy 14" GT 500 rotors weigh in at

OVER

25 pounds:

That is MORE than 6 pounds heavier than a 13" SN-95 OEM front rotor: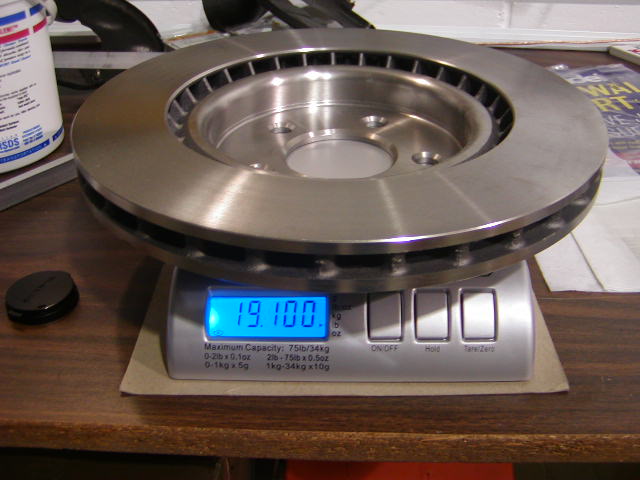 With that kit you are adding MORE than 12 pounds of rotating mass and unsprung weight
on the front end of a car that's already too heavy.
In case you didn't realize this,
your 1/4 mile E.T.'s will actually go up and your MPH will go down
adding that much rotating mass to your car because it's more weight that needs to be accelerated from a dead stop.
If you're concerned with handling, more rotating mass will reduce the turn-in response of your vehicle as well.

Our street/strip rotor that comes standard with our kit weighs in at 16.68 pounds each.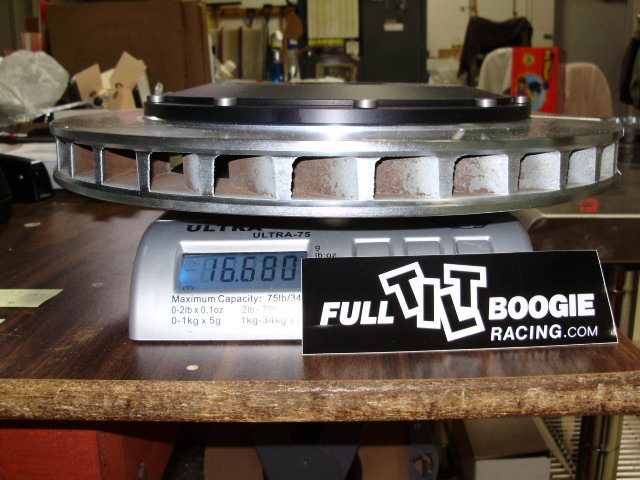 This is an unbelievable 17.28 pounds rotating mass and unsprung weight savings
as compared to the kits that use 14" GT 500 rotors.

Even our heavy duty road race rotor ring option is still 11 pounds less
rotating mass compared to the kits that have the 14" GT 500 rotors: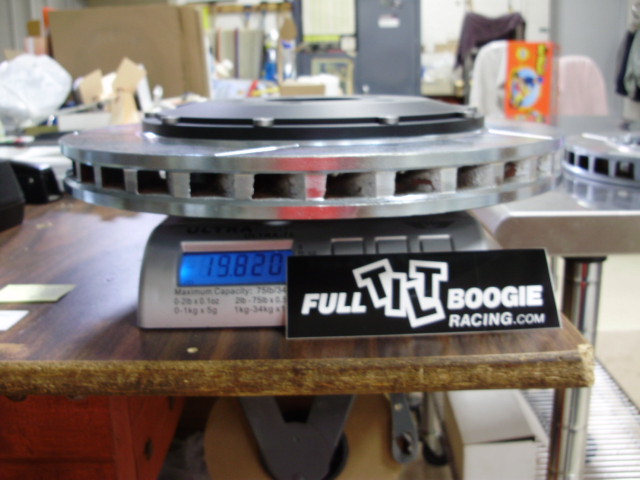 If you're a performance minded Mustang enthusiast, this kit should be an easy choice for you
if you're looking to upgrade the performance of your Mustang.

FT 9490

Street

version
FT 9490 HD

Road Race

version

Let us know if you have any questions regarding the kit.

The Full Tilt Boogie Racing Team