We now offer cross-axis joints for rear knuckles, individually (tools sold separately)


or in sets of four with the removal/installation tools included. (Best Deal!)
These will NOT fit the 1999 Cobra recalled knuckle assemblies!
Cross Axis Joint
for Rear Knuckle
99-04 Mustang Cobra


These will not fit the 1999 Cobra




knuckle assemblies!

SET OF 4
Cross Axis Joints with the
Removal/Installation Tool Set
99-04 Mustang Cobra


These will not fit the 1999 Cobra




knuckle assemblies!

Cross Axis Joint
with protective boot
for Rear Knuckle
99-04 Mustang Cobra


These will not fit the 1999 Cobra




knuckle assemblies!

SET OF 4
Cross Axis Joints with
protective boots
including the Removal/Installation tool set.
99-04 Mustang Cobra


These will not fit the 1999 Cobra




knuckle assemblies!

FT 6100
$67.50
FT 6120
$295.00
FT 6150
$85.00
FT 6170
$339.00
Cross Axis Joint Removal/Installation
Tool Set


99-04 Mustang Cobra

Cross Axis Joint
Replacement Boot
FIT OEM JOINTS ONLY


99-04 Mustang Cobra

FT 6110
$30.00
FT 6106
$7.00 each
With an external retaining ring pliers,
spread the retaining ring and
lift with a small pick or small screwdriver.
When the retaining ring is removed,
slip the small removal cup over the boot
on the retaining ring side of the cross-axis joint.
Be sure to use a little lubricant on the boot.

Be sure to make note of the flange location when removing the OEM cross-axis joint




and install the replacement cross-axis joint in the same orientation.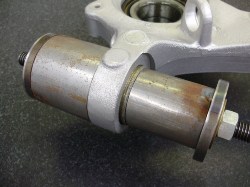 Use the large removal cup as the receiver
on the flanged side of the cross-axis joint.
Once the cross-axis joint is removed,
clean the bore with
scotch bright or steel wool.
Be sure to apply never-seize
to the bore and the O.D.
of the new cross-axis joint.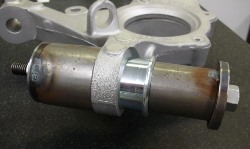 Start the new joint in the bore as straight as possible,
use the small cup on the flanged side
and the large cup on the receiving side.
Slowly tighten the nuts to press the joint into the knuckle.
The joint may tilt slightly when first
starting to press it into the bore,
but will straighten itself out as it seats into the bore.
If you have access to a hydraulic press,
use the cups and eliminate the threaded rod.
Press the joint in until the flange is fully seated
and is tight against the knuckle.
Once the joint is seated, install
the retaining ring with a medium duty
external retaining ring pliers.