New Cross Axis joint design with protective boots.
At Full Tilt Boogie Racing, we have some exciting news for Mustang performance enthusiasts.
We now have available a 14" front (355x32mm) Brembo brake conversion kit for all SN-95 vehicles.
The kit requires 18" wheels and should fit under most 18" wheels. Check your wheel specs for fitment.
This kit naturally fits all SN-95 Cobra models 1994-2004 along with all Mach I, Bullitt and GT models as well.
Included in the kit are a pair of radial mounted Brembo F-50 four piston
fixed calipers
loaded with street pads and pad attaching hardware,
a pair of FTBR caliper mounting brackets with caliper mounting hardware, FTBR stress relieved, slotted, directionally vaned, clear zinc plated, floating rotor rings,
hard anodized, billet machined aluminum FTBR floating hats, attaching bobbins and hardware all of which are compatible with the Brembo Gran Turismo 355x32mm kit.
The kit also comes with braided Stainless Steel front brake lines, banjo bolts and copper sealing rings.
Similar kits can be found for more than $1,400.00
more
than what we are offering the kit for:
Brembo GT 355mm Big Brake Kit
That's like a 39% off sale!!!
The price of our kit is $2,200.00 and comes complete with everything you need and ready to bolt on to your vehicle.
Optional items for this kit would be HD rotor rings for road racing add $100.00.
Race pads would also be available at an additional cost depending on your pad choice.
(inquire)
Why is our 14" kit better than some of the other 'cheaper' 14" kits available on the market?
I'll tell you, and it can be summed up in two words: "rotating mass".
Some of our competitors use a 14" OEM rotor in their kits.
These rotors are very inexpensive to buy compared to manufacturing 2 pc floating rotors and hat assemblies.
| | |
| --- | --- |
| | |
| These insanely heavy 14" rotors weigh in at OVER 25# | That is more than 6 lbs. heavier than the SN-95 OEM front rotor |
With that kit you are adding MORE than 12# of rotating mass and unsprung weight on the front end of a car that's already too heavy.
In case you didn't realize this, your 1/4 mile E.T.'s will actually go up and your MPH will go down adding that much rotating mass to your car
because it's more weight that needs to be accelerated from a dead stop.
If you're concerned with handling, more rotating mass will reduce the turn-in response of your vehicle as well.
Our street/strip rotor that comes standard
with out kit weighs in at 16.68 lbs. each.
This is an unbelievable 17.28# rotating mass and unsprung weight savings as compared to the kits that use 14" GT 500 rotors.
Even our heavy duty road race rotor ring option
is still 11# less rotating mass compared to the
kits that have the 14" GT 500 rotors.
If you're a performance minded Mustang enthusiast, this kit should be an easy choice
for you if you're looking to upgrade the performance of your Mustang.


These kits are is stock and ready to ship.
Click here for more information

.
Contact us if you have any questions regarding this brake kit.
The FTBR Team
---
New Items
Russell four piece
front and rear
stainless steel braided
brake line set.
S-197 (05-14) Mustang
Universal general purpose rear caliper




piston retraction tool

FT 9750
$210.00
FT 9010
$59.00
---
Brembo Replacement Floating Rotor Rings
355mm x 32mm Front Replacement Floating Rotor Rings
Weight of the

Heavy Duty

version
14" Brembo Replacement
Floating Rotor Rings
17.3 Lbs.
Weight of the
14" Brembo Replacement
Floating Rotor Rings
15.7 Lbs.


(GiroDisc)

Weight of the

Lightweight

version
14" Brembo Replacement
Floating Rotor Rings
14.18 Lbs.
FT 9400 HD Ring Set
FT 9400 Ring Set
FT 9400 LW Ring Set
This is a replacement 355mm x 32mm floating rotor ring that fits Brembo kits for many vehicles.
The 48 vane Brembo rotor rings weigh approx. 16 lbs.
We have a choice of slightly heavier or slightly lighter weight rotors.


These rotors will fit applications including, but not limited to:




Mustang's, Camaro's, Corvette's, Subaru's, Porsche's, BMW's, Mitsubishi's...ect.


Check spec sheet above to see if they match your application.
---
S-197 13" Rear Brake Conversion
Two piece floating rotors
S-197 13" Rear Brake Conversion Kit
Two piece floating rotors.


FT 9600

S-197 13" Rear Brake Conversion
Replacement Rotor Ring Set


FT 9600 Ring Set

S-197 13" Rear Floating Brake Conversion
Rotor Weight....11.54lbs
FT 9600 Kit mounted on car.
The caliper bracket needs
to be ground for bolt clearance
A closer view
FT 9600 13" Rear Brake
Conversion Kit Mounted on the car
A closer view of the FT 9600 13" Rear Brake
Conversion Kit Mounted on the car
IRS eccentric camber adjusting bolt
OEM camber adjusting bolt in the
upper control arm, notice the
washer does not fill the entire milled
width in the control arm.
Full Tilt Boogie Racing's new replacement
IRS camber adjusting bolt fills the entire milled width of the upper control arm for increased camber adjustment.
FTBR vs OEM eccentric camber
adjusting bolts side by side. Note increased eccentric washer thickness.
This photo shows the increased offset of the eccentric washer on the upper control arm. Elongating the bolt slot on the UCA will give you increased camber adjustment.
This is the amount of material that needs to be removed from both ends of both slots of the UCA to take full advantage of increased camber adjustments with this new eccentric camber adjusting bolt.
This photo shows the increased
thickness of the eccentric cam as
compared to the OEM part.
| | |
| --- | --- |
| | |
| The bolt on the FTBR eccentric camber adjusting bolt, is welded to the eccentric washer and cannot slip as in some cases with the OEM part. The assembly is clear zinc plated to help prevent corrision. | Part # FT 1050 |
Cross axis joint replacement boot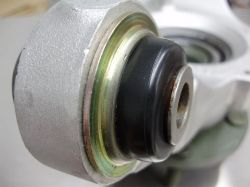 Full Tilt Boogie Racing now offers a replacement boot for the Ford OEM cross-axis joints.
Part # FT 6106
Front Differential Torque Brace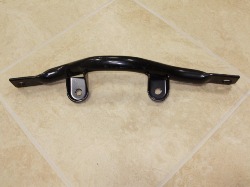 This 2003-2004 (Terminator) Ford front torque brace reduces movement of the front of the differential housing during hard launches, which will in turn reduce wheel-hop.
When using this brace it ties the front differential bushing mount with the subframe that results in a stiffer IRS assembly.
Update your older IRS equipped Cobra with this newer style brace that Ford agreed was important enough to include on the later models.

Part # FT 1290
---
Front Differential Mounts
We've come to the realization that adjusting our old design front diff mounting bushings was a tedious and time consuming process. So we went back to the drawing board to improve the design and this is what we've come up with. A set of front diff supports that are actually self aligning. There is no longer a need to orientate the tapered bushings and tapered washers to match your mounting surfaces. Simply bolt them in place and they pretty much self center themselves!
| | |
| --- | --- |
| | |
| Here are some photos of the new bushing design. | This is how they self adjust to the mounting surfaces of the subframe and the front torque brace from angled to completely flat. |
| | |
| --- | --- |
| | |
| Here is the front diff set mounted in the car. | And a close-up of them mounted in the car. |
Because these parts are so much easier to work with and we've always been a very customer oriented company, we are going to offer a trade-in exchange for all of our previous customers that have purchased these. For the guys that have NOT installed their kit yet, go into your kit and remove all of the parts in the front diff mount set with the exception of the 12 shimming washers. You keep them. Send us the two thick and two thin angled bushings and four angled washers. Once we receive your returned parts and verify you purchased the parts from us, we will ship you the new bushings and seats along with some new front diff mount installation instructions AT "NO" CHARGE!!! :-D

For the guys that have already installed these parts in their cars you probably discovered this alignment process was a little more work than it should have been. You're probably not looking forward to having to do it again if you ever have to take your car apart. We're going to do something for you as well.
You can purchase just the eight required parts, four new bushings and four matching washers (you won't receive any shimming washers) for $40.00 + $5.00 freight. Keep them until you go back into your differential again.
Once you remove and return the eight angled parts (four bushings and four washers) you will receive a $40 refund.
If anyone has any questions, contact us at:

info@fulltiltboogieracing.com

I'd be glad to answer them.
---
Delrin Isolated Rear Diff Mount
This has been a LONG time in development but we have finally seen the fruits of our labor.
As many of you may or may not know,
the rear differential mount kit we currently offer will allow our customers the ability to vastly improve their driveline angles.
Although we have had very few complaints from customers with issues pertaining to drive line vibe,
we still felt it was important to offer a kit that allows total and complete optimization of the driveline angles without the need to modify the subframe in any way.


This is our newly revised aluminum Delrin isolated rear differential lowering mount that will fit the new milled FT 1350M Ford Racing rear differential cover.
Here is the bracket mounted onto a milled FT 1350M Ford Racing rear diff cover.
(See milled cover below)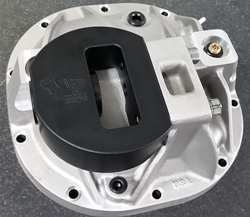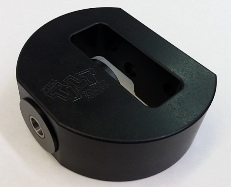 The Delrin will isolate NVH from transferring from the differential housing to the subframe.
Part # FT 1401
---
New Ford Racing Reinforced IRS Rear Differential cover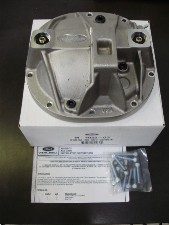 Full Tilt Boogie Racing now offers the new Ford Racing IRS reinforced rear diff cover.
This newly designed cover eliminates the need to install a rear differential cover brace.
Ford Racing IRS diff cover - Part # FT 1350
---
Milled for clearance Ford Racing Diff Cover
| | | |
| --- | --- | --- |
| | | |
| Left side clearance | Milled Ford Racing Diff Cover | Right side clearance |
If you're using the FT 1401 combined with the Ford Racing diff cover you will run into some clearance issues with the inner toe link mounting brackets on the subframe.
We now offer a machined Ford Racing cover FT 1350M which is specifically milled to install in the subframe without any clearance issues.
Click here for more info: http://www.fulltiltboogieracing.com/faqs.htm, or here: Milled Cover
Milled Ford Racing IRS diff cover - Part # FT 1350M
---
New S-197 Adjustable Aluminum Panhard Bar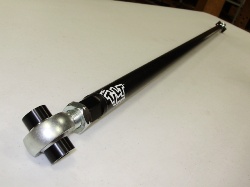 S-197 Panhard Bar - Part # FT 910
Here is the OEM Panhard bar.
7.2 Lbs.
Here is the FTBR
reduced weight panhard bar.
3.7 Lbs.